At SAITM's hostel, students learn to live independently and self sufficiently. It helps students develop a sense of friendship, raises cultural awareness, creates a learning atmosphere and teaches them to be self-disciplined. The campus located within the premises separately accommodates girls and boys. The hostel is operated under the management of the Hostel Committee. The hostel committee is headed by the chief warden in assistance with two in-charge wardens, taking care of day-to-day aspects of the hostel management. Each hostel has a resident warden who looks after the discipline, maintenance of the building, allotment of rooms, etc. The hostel staff includes caretakers, attendants, and maintenance staff.
Main highlights of SAITM's Rooms & Accommodation
A disciplined hostel life at SAITM helps students learn and grow under the supervision of administration.
Separate, safe and secure in-campus hostel facilities are provided to both boys and girls.
All the rooms are well-furnished, spacious creating a pleasant and hygienic environment.
Both vegetarian and non-vegetarian meals are cooked and served separately as per requirement.
From taking care of studies to managing everything themselves, students learn to take all responsibilities on their shoulders. Hostel life at SAITM teaches students to get accustomed to a new learning environment. SAITM's hostels create a learning and supportive atmosphere for individual and group studies and tend to develop healthy competition and mutual understanding among hostellers.
Measures to prevent bullying
Since bullying is one of the major concerns of most students living in hostels, SAITM ensures all the necessary measures are taken to prevent such an act in its premises. To implement the strictest of measures and actions against the bullies, a committee of experts is appointed by the institute to exclusively look into such incidents.
Awards for best design conference for architecture 2018
22+
Acres of lush green campus
5
Campuses in Delhi & NCR
50+
Well equipped labs and workshops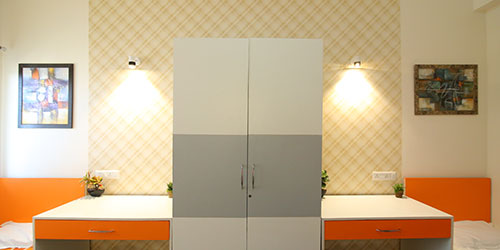 Rooms & Accommodation
Separate safe and secure in-campus hostels are provided for boys and girls with well-furnished, comfortable rooms in a pleasant and hygienic environment. Vegetarian and non-vegetarian meals are cooked and served separately as per requirement...
Know more